The Hook: That All-Important First Sentence of Your Application Essay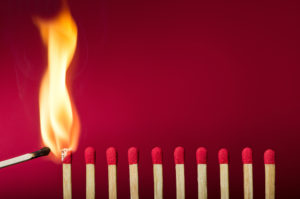 What is a 'hook'?
More than just a first sentence, a hook is a grabby opener meant to pull your reader directly into the world of your story. An audience immediately engaged will race forward to find out what happens next.
Why do you need a hook?
Admissions officers' eyes are about to melt out of their heads from reading so many application essays—they're dying for an essay that stimulates their interest from the get-go.
In an essay of 650 words or less, there's no time for a gradual start-up. Jump right into the heart of your story.
You have one chance to create a strong first impression. After reading an absorbing first sentence, your readers will straighten up from their exhausted mid-afternoon slump and devour your essay with interest and excitement.
How or where do you find your hook?
A hook may reveal itself after you've isolated your essay's main theme, or it may arrive like a strike of lightning once you're aware of the importance of beginnings. But you may discover it, oddly enough, in the middle of your second paragraph. (The second paragraph of an early draft is often where writers start to gain traction and momentum.)
CRAFTING THE HOOK
Here are several approaches to consider:
| | |
| --- | --- |
| Open with your ending; readers will be eager to discover how you came to find yourself there. | Example: "On January 12th, the day that Tsering Tashi set himself on fire, he didn't seem particularly troubled." – Jeffrey Bartholet, Aflame |
| Make it intentionally vague; ambiguity can pique your reader's interest. | Example: "It felt like a noble gesture at the time, and I was in the mood for an adventure."– Walter Kirn, Pedigree |
| Start with a quirky or intriguing question. | Example: "Do I seem smarter than I did a few weeks ago?"– Patricia Marx, Mentally Fit |
| Incorporate evocative imagery; vivid details allow the reader to create a lively mental picture. | Example: "Last September, at a hospital in eastern Croatia, my father and I visited a collection of some four hundred human kidneys." – Elif Batuman, Poisoned Land |
| Reference something seemingly insignificant; the reader will want to see how it becomes significant. | Example: "Kaleigh Ahern was twelve years old when a tick bit her."– Michael Specter, The Lyme Wars |
| Keep it short and simple; making a direct statement is often jarring enough to captivate the reader. | Example: "Spider-Man has always been the guiltiest superhero."– Dana Goodyear, Bad Character |
| Juxtapose; connecting two seemingly contradictory things adds intrigue. | Example: "It was the best of times, it was the worst of times…" – Charles Dickens, Tale of Two Cities |